The very first Malaysia Dog Olympic Day 2006 will be held on June 18, 2006 at Central Park, Bandar Utama. Puppy.com.my is the organizer of the event which is sponsor by Purina ProPlan. Highlight of the day include 12 Dog Challenge Games, Agility Trial and Schutzhund Trial. Full Information as below:-
Date : June 18, 2006
Venue : Central Park, Bandar Utama, Kuala Lumpur
Time : 7:15am to 3:00pm
Admission : Free
Open to : All dogs lovers. Owner of Mixed Breeds and Pure Breeds dog and their dogs are all welcome.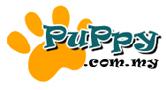 Highlights of the Malaysia Dog Olympic Day 2006
Police K9 Unit Demonstration with brand new demonstration.

Schutzhund 1 Trial

Part 1 : Obedience
Part 2 : Protection

Purina Puppycom Agility Trial
12 Doggie Challenge (All Free to participate)

Dog Olympic Run (Ultimate Record Challenge)
Musical Chair Competition
Hurdle Dash Race
Amazing Dog Race
Best Canine Twin Challenge
Ultimate Sit Stay Challenge
Long Jump Competition
Dog Fastest Eating Duo
Tic Tac Toe
Leader of the Troop
Waggiest Tail Challenge
2 x 2 Realay Competition

Games Trivia – Plenty of Games Trivia to challenge your knowledge in Dog
Ownership

SPCA and PAWS
SPCA Selangor and PAWS will setup booths on the Malaysia Dog Olympic Day. As
usual, SPCA Selangor will take several dogs with them for public to adopt the
dog on the Malaysia Dog Olympic Day.

You will also get a chance to donate directly to both Animal Shelters on the
same day.


Micro-chipping of Dogs
Dog Micro-chipping Services will be available on the Malaysia Dog Olympic Day.
A Qualified and Registered VET will be there to help you with questions on Dog
Micro-chipping and Chip Implantation.

Lucky Draws
There will be plenty of Lucky Draws on the day where you stand to win many
doggie products

Doggie Products' Booth
There will be several commercial offering various dog related products on that
day.

Vet Corner
A Qualified will be available at the VET Corner on the Malaysia Dog Olympic
Day to offer free medical checkup for your furkids.

Free Dog Gifts to the first 500 registered visitors at the event venue.
Registration will open at 8:00am till 10:00am

Dog Socialization
The Malaysia Dog Olympic Day is expected to be attended by many dog owners and
their dogs and hence it present a good opportunity for dog owners to socialize
their dogs on that day.
The location Map as per

www.puppy.com.my/olympic/map.html
Program of the Day can be viewed at

www.puppy.com.my/olympic/program.html
More information on Malaysia Dog Olympic Day can be viewed at


www.puppy.com.my/olympic/