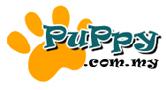 Malaysia Responsible Dog Ownership Day was successfully held on September 11, 2005 at Central Park, Bandar Utama. Report by Star Metro as below:-
Inaugural Dog Ownership Day
Story and photos by CHIN MUI YOON
local authorities have been urged to implement a clear set of common guidelines for dog owners, as the current multiple set of rules and regulations varying between different councils are confusing.
In making the call, Deputy Infor-mation Minister Datuk Donald Lim Siang Chai said all these guidelines should be acceptable and carefully thought-through before they were implemented.
"Often, a council's rules and regulations are made by officers sitting inside their offices without a first-hand understanding of what is really happening on the ground.
Puppy.com members showing off their trained dogs' excellent obedience skills where the canines learn to sit and stay, greet strangers with a friendly manner and walk beside their owners instead of pulling at the leash.
"This results in the theory and practical aspects of guidelines being very different from one place to another," he said after launching the first Malaysia Dog Ownership Day at the Bandar Utama Central Park on Sunday.
"We are living in a 21st century democratic society in a nation of many faiths and culture. All the people's rights have to be protected and respected.
"The local councils should hold discussions with pet owners and animal welfare NGOs before coming up with guidelines," he added.
beautiful Golden Retriever, Chester, seeks break from the midday sun by hiding inside a doggie play tunnel.
Lim said a blanket rule governing dog ownership was difficult to implement due to the different development stages in a state or between the states. Currently, the eight local councils in Selangor each has its own set of bylaws governing dog ownership.
Touching on the RM200 fine for owners found guilty of abusing their pets, Lim said the 20-year-old law was outdated and was too small a sum to deter people from committing cruelty to animals.
"Local authorities should come up with an amount that is relevant to the present day," he said.
Lim also launched the Puppycom Canine Good Citizen Programme (CGC). Also present at the event was puppy.com founder and director Khoo Boo Ghee.
The CGC programme is a community project to train dogs in accordance with international standards such as the American Kennel Club.
The CGC has been implemented in training since 1989 and police and animal control agencies in England, Australia, Japan, Canada and some European countries use the programme in their local communities.
Daphne the Mini Schauzer looking pretty in blue.
The training programme is open to all dog owners with dogs aged at least three months old that have completed their vaccination.
Dogs that have passed the 10-point test will be given a certificate. The CGC also lays the foundation for other Puppycom activities and training such as obedience and agility.
"We hope dog owners will sign up for the training to ensure they have a well-behaved dog," said Khoo.
The Malaysia Responsible Dog Ownership Day sponsored by Purina PetCare will now be held every second Sunday in September. Its first event drew over a thousand dog owners with their pets in tow.
The dogs participated in fun games such as a race with their masters called the Fastest Recall contest, Fastest Eating contest and a Dog Rally.
They also got to enjoy hours of socialising. From pretty toy poodles dressed up in lacy frocks to a giant, bear-like Newfoundland, the dogs happily sniffed each other out to make new friends. Some dogs, especially the Golden Retrievers, even went for a swim in the pond.
A thrilling demonstration on dogs' intelligence and usefulness was seen when a Labrador and a Golden Retriever from the K9 Unit of the Royal Malaysian Customs efficiently sniffed out smuggled ganja.
The Police K9 Unit also demonstrated their dogs' ability in crowd control, drug detectioin, agility and obedience.
Finally the Fire and Rescue team demonstrated their dogs' ability in digging out humans trapped under piles of rubble or in a fire.
For details on the Puppycom Canine Good Citizen Programme, visit www.puppy.com.my or call 03-4297 8281.